Recently published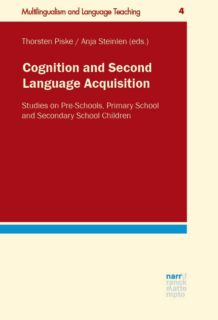 Here you can find some of our recent publications:
Recent books:
Thorsten Piske, Anja Steinlen. (2022) Studies on Pre-School, Primary School and Secondary School Children.
See https://www.fachdidaktiken.phil.fau.de/2021/02/23/publikationspreis-des-department-fachdidaktiken-an-pd-dr-anja-steinlen/ for further information.
Steinlen,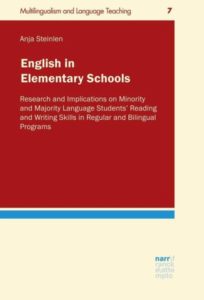 Anja. (2021). English in Elementary Schools. Research and Implications on Minority and Majority Language Children's Reading and Writing Skills in Regular and Bilingual Programs. Tübingen: Narr.
Wright, Clare, Piske, Thorsten & Young-Scholten, Martha (eds.) (2018). Mind Matters in SLA. Bristol Multilingual Matters.
Steinlen, Anja & Piske, Thorsten (Hrsg.) (2016). Bilinguale Programme in Kindertageseinrichtungen. Umsetzungsbeispiele und Forschungsergebnisse. Tübingen: Narr.
Steinlen, Anja & Piske, Thorsten (eds.) (2016). Wortschatzlernen in bilingualen Schulen und Kindertagesstätten. Forum Angewandte Linguistik F.A.L. Band 57. Frankfurt am Main: Peter Lang.
Recent journal articles:
2020 Steinlen, A. & Piske, T. *breakfist, *breackfest, *brakefast oder *brackfust? Orthographische Kompetenzen im Englischen in einem bilingualen Grundschulprogramm in Deutschland. Bulletin suisse de linguistique appliquée No spécial, 2020, II: Mehrschriftlichkeit und Mehrsprachenerwerb im schulischen und ausserschulischen Umfeld – Plurilittératie et apprentissages plurilingues à l'intérieur et hors du contexte scolaire, 61-80.

2019 Hopp, H., Steinlen, A., Schelletter, C., & Piske, T.. 

Syntactic development in early foreign language learning: Effects of L1 transfer, input, and individual factors. 

Applied Psycholinguistics. https://dx.doi.org/10.1017/S0142716419000249

2018 Steinlen, A.K. Grundschulen mit verschiedenen Englischprogrammen: Geschlecht und Migration auf dem Prüfstand. Zeitschrift für Fremdsprachenforschung.

2018 Steinlen, A.K. The development of English and German writing skills in a bilingual primary school in Germany. Journal of Second Language Writing 39(1).

2017 Piske, T. Old dogs and new tricks? Aktuelle Erkenntnisse der Spracherwerbsforschung zur Rolle des Alters, des Geschlechts und eines Migrationshintergrunds beim Erlernen von Fremdsprachen. Praxis Englisch 4/2017, 44-46.
2017 Steinlen, A.K. The development of English grammar and reading comprehension by majority and minority language children in a bilingual primary school. Studies in Second Language Learning and Teaching 7 (3). 419-442.
2016 Steinlen, A.K., Primary school minority and majority language children in a partial immersion program: The development of German and English reading skills. Journal of Immersion and Content-Based Language Education, 4(2). 198-224.
2013: Steinlen, A.K. & Piske, T. Academic achievement of children with and without migration backgrounds in an immersion primary school: A pilot study. Zeitschrift für Anglistik und Amerikanistik. 61/3. 215-244